Forged fork link chains
Forged fork link chains are typically used for bulk transport.
Our product specialists can provide tailor-made advice depending on the client's situation, circumstances and capacity. Drop forged fork link chains are available in different sizes, such as single or double stranded versions or with attachments. Depending on the application, one can choose the standard version, such as, for example 16MnCr5, 20 MnCr5 or 42CrM04, or one made from material with a higher tensile strength or a higher corrosion resistance.If the chain must run at a certain angle, then one should choose oblique conveyance. For horizontal transport, the double-stranded chains are interconnected with scrapers. The connecting pins are available in different designs and materials. Sprockets for fork link chains are available in both one-piece and two-piece designs and are almost always custom produced.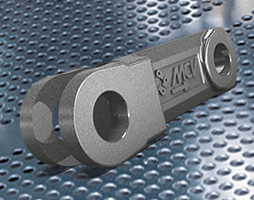 Technical product information: